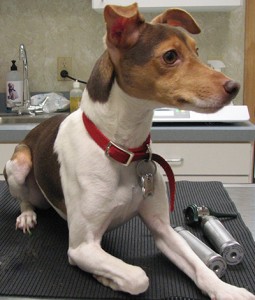 The Canine Massage Therapy that I do is like Sports Massage Therapy.  It is great for arthritic dogs, post orthopedic surgery, post ACL or patella surgery or an injury to a joint or muscle.  I break up adhesions or knots in the muscle.
Massage can be beneficial for dogs with mild to severe arthritis. For severe arthritis I recommend one session per week.  For mild arthritis, a massage can be done as needed.
Flexion and extension exercises can also be a great addition to massage or can be done alone.  These exercises can be taught to the pet owner to do at home for further therapy.
For a dog not using a leg, two days of flexion and extension along with 1 massage in a week will help the dog gain back muscle tone and loosen adhesions in the other leg, hip or shoulder.  The goal is to gain normal function of the leg again.  The length of treatment depends on how extensive the muscle wasting is and how well the affected leg is healed.
This treatment requires work on the owners part and also needs to be reviewed at least weekly by the Veterinarian.  The course of treatment, in these cases, will also need to be determined by the Doctor.
I have seen Massage Therapy help:
Post Orthopedic Surgery
Post ACL
Mild to severe arthritis
A very nervous show dog
Dogs with amputated limbs
Pregnant dogs about to deliver
I have also massaged an arthritic diabetic cat (I am not certified for cats).  He was not fond of it but tolerated it with minimal tail flicking!
Please call the office if you feel that Massage Therapy can be beneficial to your dog.
Mary Brown, RVT, CCMT
440-998-3598